1994
Foundation of the PIQ-PHARMA company
1995
Market launch of Pantogam® tablets
1999
Market launch of the drug "Elkar® solution" for oral via administration
2002
Market launch of Pantogam® syrup
Market launch of Nooclerin® oral via solution
2003
Market launch of the drug "Dibicor® tablets"
2006
Creation of the PIQ-PHARMA Medical Representative Service
Market launch of the medicine "Axamon® tablets"
2009
Launch of own production of RTU drugs
Market launch of the drug "Pantogam® active, capsules"
Market launch of the drug "Elkar® solution for injection"
2010
Market launch of the drug "Carnicetin® capsules"
Market launch of the drug "Kordinik® tablets"
Market launch of the drug "Gabapentin capsules"
2011
Launch of own production of substances — PIQ-PHARMA CHEM (Belgorod)
2012
Start of construction of the PIQ-PHARMA LEK plant (Belgorod region)
2013
Modernization of PIQ-PHARMA CHEM (Belgorod)
Creation of a technological laboratory PIQ-PHARMA TECH (Moscow)
Market launch of the drug "Axamon® solution for injection" and dietary supplement "Citrolux®"
2014
Service of Medical Representatives hits covearge of 40 cities of Russia
2015
New enterprise — solid dosage forms manufacturing line by PIQ-PHARMA LEK (Belgorod region)
2017
Launch of new product — Elkar® effervescent granules (Made in Italy)
2018
Launch of the partnering manufacturing of Magnerot® under license and for Wöerwag Pharma
2020
Launch of a non-sterile liquid dosage forms manufacturing line at PIQ-PHARMA LEK
2021
Launch of a new product — Dibufelon®
HISTORY
The company was founded in 1994 and the first product released was Pantogam® (hopantenic acid), recognized as one of the most balanced nootropic in sense of effectiveness and safety.
Pantogam was approved for medical use by the State Pharmacological Committee in November 1977 but it was produced in limited quantities. By 1994, the release of this socially significant medicine was almost terminated.
In the mid-1990s, with the support of NPO "Vitamins" and the participation of its employee, r of Chemistry Professor Vyacheslav Mikhailovich Kopelevich, the new pharmaceutical company PIQ-PHARMA actually brought Pantogam® back to life, restoring production in accordance with modern industry standards.
Today this medicine, while remaining one of the main brands of PIQ-PHARMA, occupies a significant position in the market of nootropic drugs.
Cooperating with the best research centers, as well as conducting its own research, by the beginning of the 2000s, PIQ-PHARMA significantly increased its product list. Innovative drugs such as Elkar® oral solution, Nooclerin® oral solution, and Dibicor® tablets were developed and introduced to the market.
In the following years, the number of elaborated drugs and their different forms of release increase annually, and sales volumes grew at a faster pace than the industry. The network of medical representatives grows rapidly.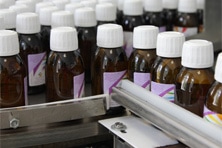 Line for the drug "Elkar
®
"
All these years, the production of drugs was carried out at the facilities of third partners. In 2009, one of the key events in the life of the company took place — the commissioning of its own production of the medicines, located in the suburbs of St. Petersburg.
In 2011, the production potency of the company increased significantly due to the own production of substances at the Belgorod — PIQ-PHARMA CHEM LLC.
And already in 2013, a significant modernization was completed at the plant. The second industrial line was launched. The laboratory and experimental industrial lines have started their work, allowing to develop the production of new products.
Also, in 2013, PIQ-PHARMA opened its own technology laboratory in Moscow allowing the company to increase its innovative potential significantly.
The year 2013 was also marked by the start of construction of a finished pharmaceuticals plant PIQ-PHARMA LEK LLC in the Severny industrial park of the Belgorodsky district of the Belgorod region. The opening of sales solid dosage forms of PIQ-PHARMA LEK LLC took place on April 2, 2015, and at the end of 2020, the workshop for non-sterile liquid forms was launched, and today PIQ-PHARMA carries out all its own production here.
Nowadays the PIQ-PHARMA Group of Companies is a full-cycle pharmaceutical company, constantly replenishing its product portfolio, and expanding its sales markets not only in the Russian Federation, but also in the CIS countries.